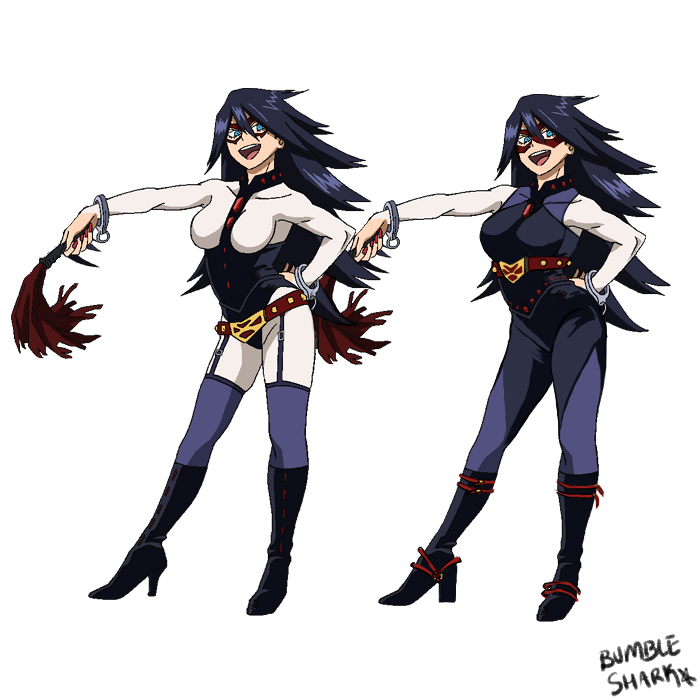 i wanted to fix some things that made me uncomfortable…also it was fun kinda redesigning these ladies from bnha cuz god damn their original suits are shit and dont make sense according to their quirks…. 

first off: shutup omg. yall forgetting these are fictional women written by a man. "they design their own outfits" is a dumb argument. these women dont exist and didnt decide anything. the artist/writer did. get smart.

second. the only thing different with momo is i took away the tittyshow of a 15 yr old. she still has a window on her chest and tummy but a lot of the shit she forms from her body comes from her back and limbs. there's an inch long difference between her weird ass skirt and the shorts i gave her– i think she'll make do.

ashido is a disaster. her quirk is secreting acids so why are the parts of her body that show as much skin covered? legs take up a lot of the body. the only other difference in her uniform is–once again— i took away the tittyshow of a 15 yr old. i literally gave her MORE skin to show.

let me wrap it up with nemuri since yer argument to this was by far the dumbest. nemuri can still rip off her clothes. she is STILL showing the same amount of skin as the original. I just changed the color and design so it looked like this bitch didnt just roll outta bed and throw over a hot topic lingerie set over a white lace onesie.  

die mad about me. 

this post is literally the embodiment of this
Those are very awesome redesigns of some of the worst female costumes in current mainstream anime. Thank you, @bumbleshark, for saving those poor heroines. 
And no thank you to the rhetoric bingo scorer who actually thinks that anime waifus have any say in their character design (ノಠ_ಠ)ノ 
And it's not like My Hero Academia can't do female costumes well. It just seems to mysteriously give up when a certain threshold of boob size is crossed ( ͠° ͟ʖ ͡°) 
~Ozzie 
Well yeah, Ozzie; at a certain boob size, you gotta give them a window to breathe through. Then you strap them in with your boob sealbelt. And MHA's got both!
-Icy 
---
See also: last time we had this @prozdvoices video on BABD