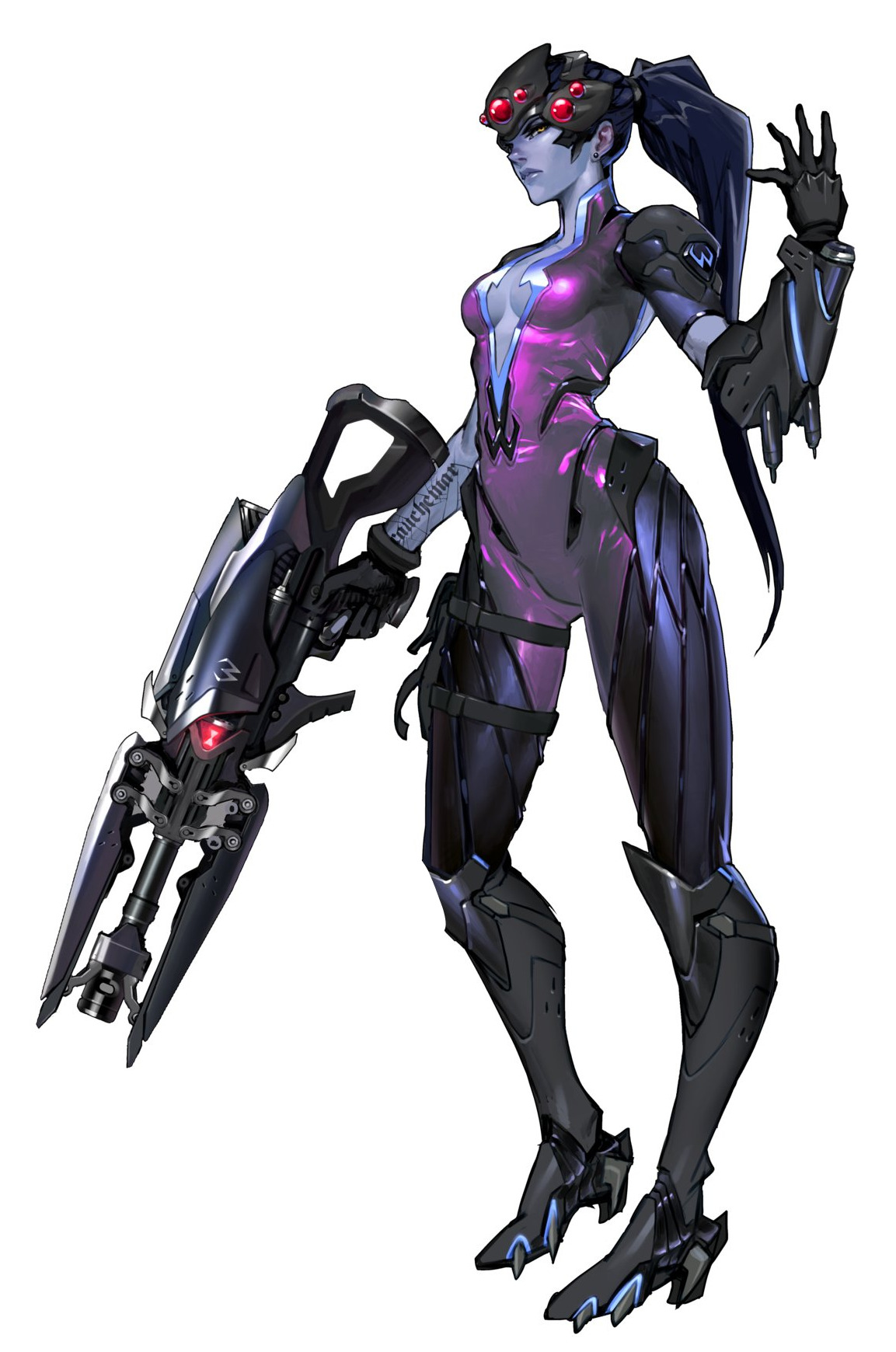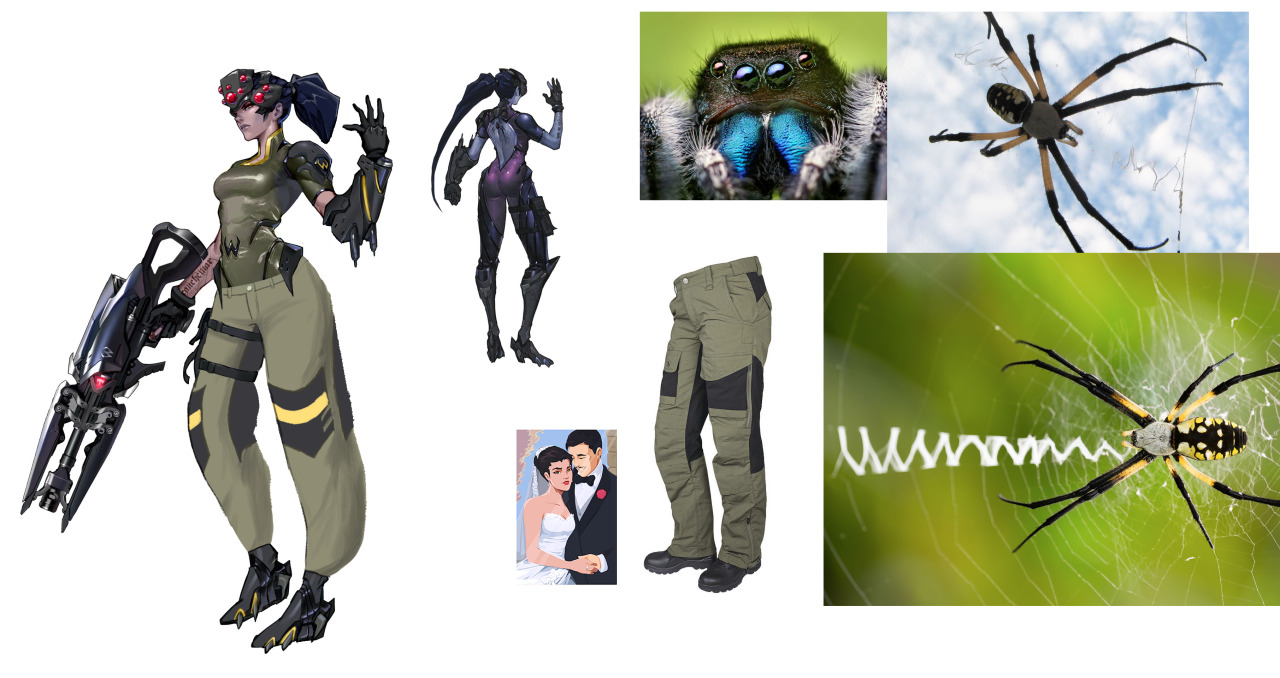 Inspired by going on one of my classic Overwatch character design rants the other day and binging @bikiniarmorbattledamage yesterday, I took it upon myself to try to make Widowmaker's design… less worse. Here's what I changed:

I gave her pants. Widowmaker is a victim of the weirdly common Overwatch character design trope of "armor from the knees down, skin-tight from the knees up". (Well, the armor is also somehow skin-tight, but.) Since Widowmaker is a sniper and Talon is supposed to be paramilitary, I decided to put her in some actual tactical pants. …Of course, I still forgot to draw pockets. Pretend they're there.
I decided not to shorten her legs or widen her waist, despite how ridiculous both of those features are, because Widowmaker actually has a reason to look like that – her spider motif. On any other character, I wouldn't stand for it.
I closed up her ridiculous cleavage window. Again, she's a sniper. Lay down on a roof in that and you'll get your chest absolutely cut up. While I was in the area, I gave her bodysuit some subtle segmentation for a "carapace" look.
I think the way I changed her shoes she'd still have her feet in the high-heel position, but I at least wanted to made them flat on the bottom so Widow doesn't catch her foot on a gutter and faceplant into an alley while doing her whole parkour thing.
Purple isn't a very "spidery" color, so I changed her to a dull greenish-brown with yellow accents to evoke an orb weaver's color scheme.
I shortened her hair so it doesn't get in the way while she's fighting, and so it's the almost exact shape of a spider abdomen, thus making her whole head a big spider design.
I made her skin a normal human color, with some subtle purplish tones on her nose, lips, ears, and cheeks. I also removed her earring.
I made her visor boxier both to look like a jumping spider and for a more realistic "tactical" look, which also gave me room to pop some more eyes on there. Plus I think it just looks better; the original looks like they were going for Giger and gave up.
Black widows are overplayed. I changed the hourglass light on her gun to the Talon logo, so she's actually representing her organization somewhere on her design.
Thank you for @-ing us, @maispace​! 
It's a second fan redesign of Widowmaker we share that adds roomy pants to her costume, so it probably tell us something about what's the next most glaringly inadequate part of her design, right after the navel-deep cleavage. 
Not sure if I'm personally into the proposed color scheme, at least without invoking orb weaver's interesting patterns in some ways. That would also add some much needed segmentation and contrast in her outfit. 
I agree, though, that the original colors were completely out of nowhere and should be revised. 
The ponytail combined with helmet creating a spider-like shape is definitely much better evoked than in Blizzard's design and shoes being somewhat wearable are appreciated. 
All in all, good reminder that Overwatch, while it comes with many interesting ideas and motifs for character designs, seems to abandon committing to them halfway through, to sell something more generic and palatable to their presumed audience, as per Creepy Marketing Guy's request. Same reason it often fits the "concept art POC turns into a pale white Barbie in the final product" problem that @otherwindow noted.
~Ozzie