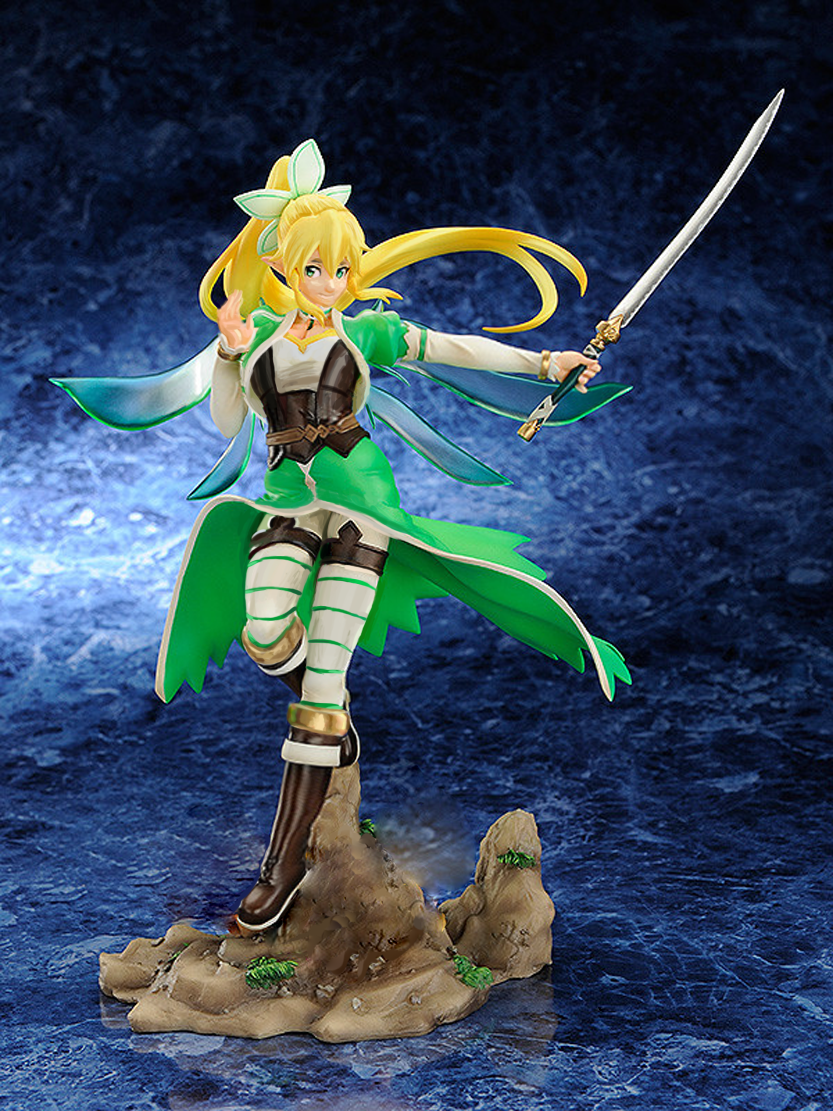 SAO/GGO Figurine Redraws, Part 2: The Incest Fairy 
Continuing the fixing of Sword Art Online heroines with Alfheim arc's notable addition to the harem party, Leafa.  
Why do I call her The Incest Fairy? Well… people even remotely familiar with SAO's lore are aware that this character's sexualized design is only worse in the context of her story >_> 
The interesting twist is that this girl who joins the main character in the game  turns out to be his adoptive sister/cousin, literally playing in the next room. The creepy twist is that she happens to have a massive crush on him. 
As the Anime Pope sayeth, DON'T FUCK YOUR SISTER! 
So, there's a lot of emphasis on Leafa's ample cleavage here, with the creepy anime waifu hand gesture which I hate. I redrew her hand completely. 
Then I reworked her weird impractical cincher into something combined with a leather vest, to contain her breasts with something more than just the white top (which I made less boobsocky). Keep in mind her breasts aren't smaller now, they're just held together by actual clothes. 
I also decided to give her a bit less generic anime facial features, with a more prominent nose, chin and eyebrows. Also subtly changed her eyes' expression and added some detail to the shading on her face and hair, so that it's all more interesting and not as weirdly 2-dimensional on a 3D figurine. 
Or course, her waist was tiny and her limbs stick-like, so I gave them some heft. The most head-scratching part of her costume were the tights that somehow just… disconnect in the middle of the thigh, then continue below like nothing happened. I made them whole, then added thin green stripes, to match the one stripe on each of her arms. Also, since there was little to no contrast between where the tights end and the boot begins, I recolored the upper part of the boots into golden rings, matching ones on her wrist. Now her legs and arms don't look like designed separately. 
I also noticed what seems like a minor case of Imperial Walker Hip, or at the very least that her right leg is disjointed from her pelvis. Did the best I could to fix it with limited time and liquify tool at my disposal. It's not ideal, but at least I also took that opportunity to not make her crotch visible from the cut in front of her skirt. I would probably repaint the whole pelvis section if I had to do it today, because even with some painting over the current results are kinda awkward. 
I have no idea what those white… pillows she was standing on were, but they looked so weird and suspiciously boob-shaped (a thing really hard to not think about when looking at this figure), so I decided to erase them the best that I could with my Photoshop stamp tool skills. 
Overall, not the most creative or technically proficient of my work, but hopefully she ended up as something with more balanced design than just "DID YOU NOTICE I HAVE A CHEST?", which seemed to be the principle of the original.
~Ozzie