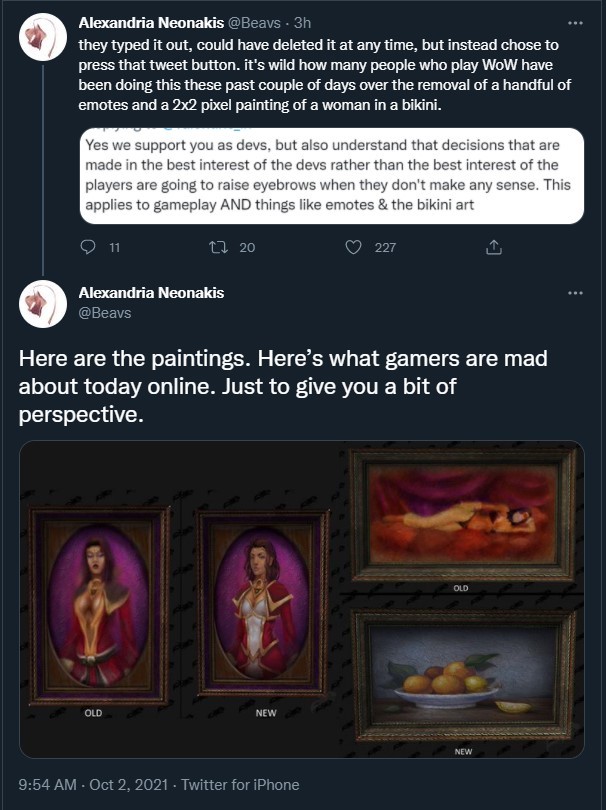 Now, because this is almost certainly going to get the attention of certain people who think they're clever – there is indeed, a reasonable reason to roll your eyes at this change – and it was covered by Joseph Knoop in PC Gamer.
(Yes, FYI, these images are paintings on the walls of buildings, in an MMORPG)
You'll note though, that the people who are unimpressed by Blizzard trying to distract from their ongoing lawsuits don't want the decision reversed, they're just upset that:
Blizzard is using trivial changes like this to distract from real harm they do to real women on an ongoing basis.
Blizzard could actually have approved these and many meaningful changes at any time – but didn't do so because they didn't care about anything but feminist cookies.
The ones who are raging and want the changes reverted on the other hand, well they are worried about two other things.
The sanctity of the sexuality of fictional women who just happen to be appealing to their sexuality as self-absorbed cishet men.
Their validation as the only people in the world who matter, and that their whims are more important than anyone's needs or interests.
(Not the lack of concern for people who's sexuality is empowered men, or who prefer to play their fantasy adventure games without tits and ass in their face)
My main thoughts on this were already summarized very succinctly by Jack Saint in a single, evergreen tweet:
So, my recommended guideline for distinguishing between to two types – since the shitty ones will always claim to be the well meaning ones when called out is:
Are they disappointed that Blizzard has not yet done anything meaningful to help real people who have been suffering due to their obscene behaviour, or are they concerned the imaginary people are no longer interested in helping them fap?
Because trust me, the latter were going to have this reaction regardless.
– wincenworks