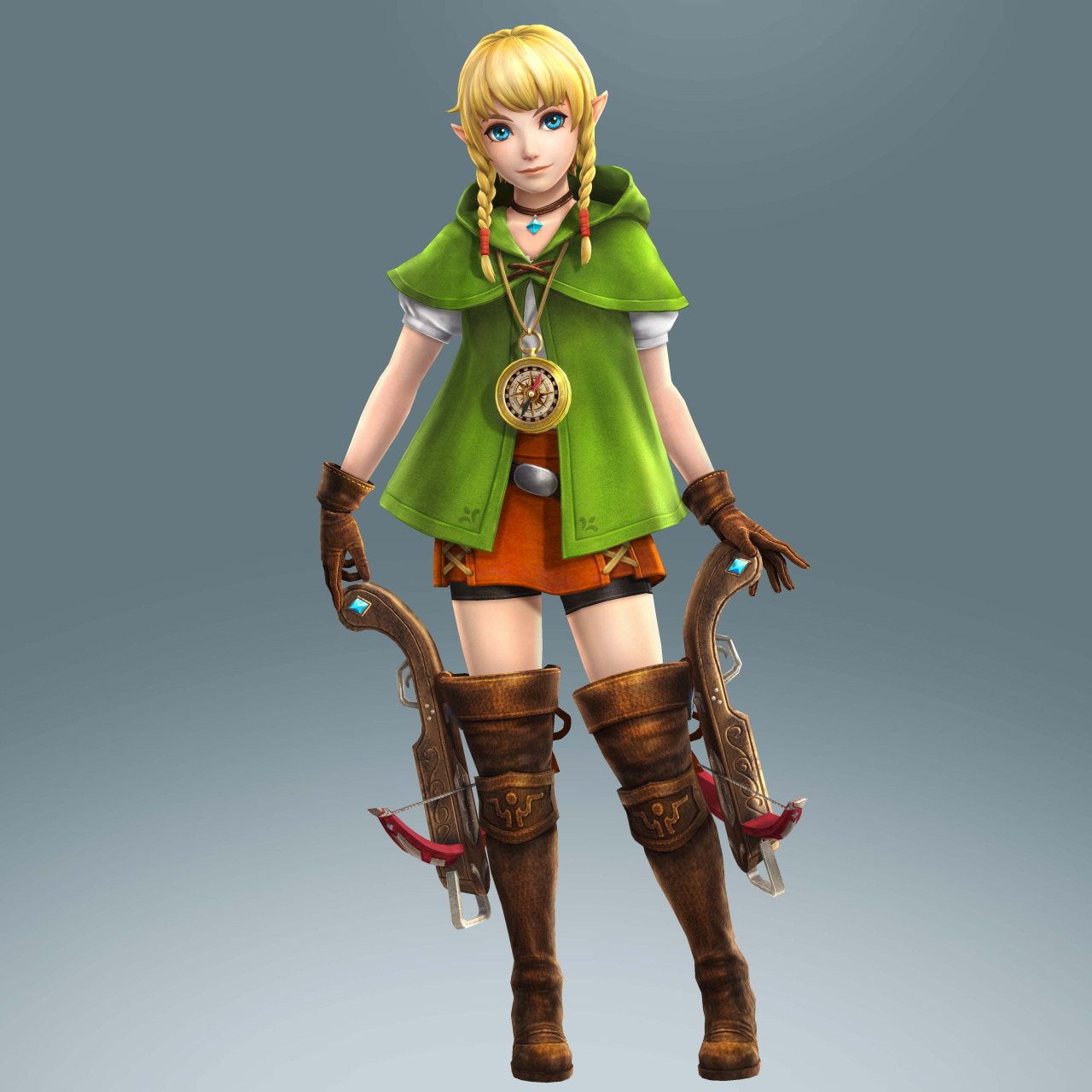 Hyrule Warriors – A Link to the Pants, Part 1 
Hyrule Warriors has been on our radar for some time, so we finally decided to try making its female characters live up to the game's name.
Basically only Impa is anywhere close to consistent with how male warriors are depicted, while other ladies at best look like they're on a runway rather than battlefield, and at worse are Cia the Boobplate Witch. 
Linkle 
First planned either as female version of Link or his sister, Linke apparently ended up as a separate character who just happens to be very similar to him… And also to many other green archer ladies, especially the Elf from Dragon's Crown. 
Reminder that, based on concept art released before inclusion of the character in the game, it could have always been much worse than just cute and vaguely derivative. Bingo-worthy worse [image source]:
Her final costume is quite fashionable, just not very functional when directly compared to how Link presents in this game, wearing layers of armor, including chainmail under his green tunic. 
While all she gets is short poofy sleeves and the fetishy "absolute territory" of bared flesh between a her skirt/shorts and thigh-high boots. 
So, of course, my aim with her redesign was to give her some layers and basic armor while retaining her individual fashion sense. 
Now her poofy white blouse is gambeson padding that she wears chainmail over, much like Link does. And the poofy sleeves  are bigger, cause why not? 
Speaking of sleeves, she also gets some additional orange undershirt that matches her skirt. And her gloves got a lot longer, to cover her forearms from harm.
Sorry for the botched shading on chainmail, I copied it from Link, but didn't have time to  re-shade properly… or to layer it in a way that makes sense ?
Finally, poofy pants, to match the sleeves, and to properly protect her legs. Covered with some more layering of chainmal and longer skirt. And the boots have functional knee-high length now. 
All in all, with the amount of edits this went through, I'm not unhappy with the results. Hope you guys like it too! 
~Ozzie
h/t for post title: @filipfatalattractionrblog​