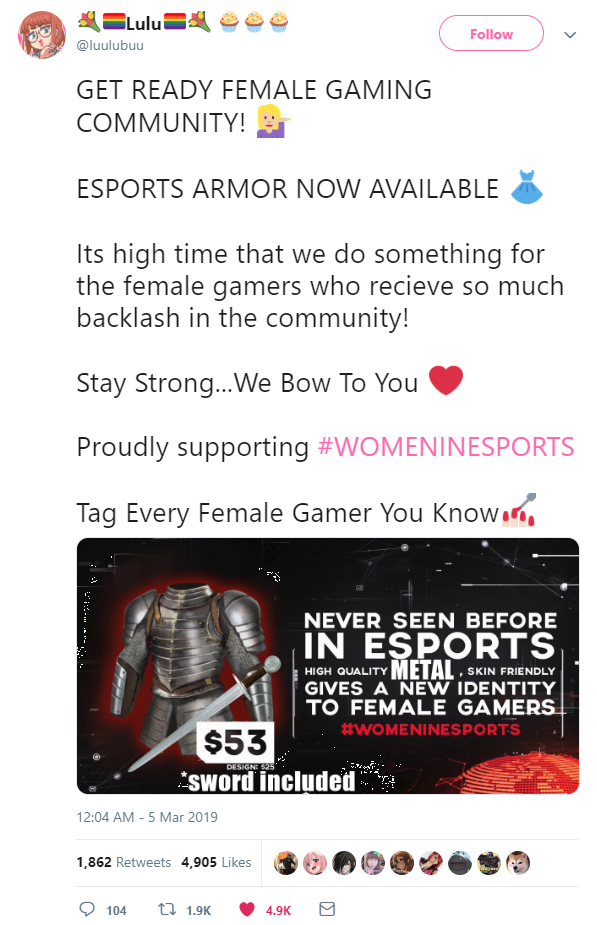 So… this incredible encapsulation of so many things wrong with "gamer" culture actually happened.  An "esports apparel" shop somehow managed to make a dress that was more cheerleader outfit (or chair) and in order to "show respect" to "female gamers" (also known as women) and decided to brand it as a "new identity" as though none of them have worn a dress before.  Unsurprisingly, more people liked this amazing parody than the real thing. 
They were naturally shocked to discover that most people consider it a good idea to involve women in the design of clothing for women (assuming you're not aiming for your dress to end up on Game Grumps or you to beg men to give it to a "gamer girl" rather than wear it themselves). 
So how did they respond to this?  Obviously, by asking for people to literally tell them let them know what "female gamers" (also known as women) wear: 
That's how they hilariously ended up with telling a competitor that they liked their designs as suggestions… apparently not realising that "female gamers" women who enjoy games can already get comfy clothes and gaming-themed clothes by people who talk to women before releasing the product. 
But needless to say, they learned an important lesson about women's clothing and considerations to make. Certainly not considerations like wanting gaming gear to comfy for hours of sitting around playing games.  They learned about marketing, specifically "delivery of tweets":
So of course, as of the time of this post their ratio'd tweet is… pinned and their most recent "likes" entry was… more like "yikes". 
Yes, literally all they actually learned after a full 24 hours of free feedback is that "female gamers" are women… and frankly I'm not convinced they're going to remember that when they sober up.
– wincenworks 
Yikes indeed. There's… so much to unpack in this and I don't even know where to start. 
I suppose what amuses me the most about this case is that Cranium Apparel somehow could not be assed to involve any women in creating that outfit, yet once called out on casual gender essentialism of selling a cheerleader dress as their exclusive piece of "female gamer" apparel… THEY NOW ASK THEIR FEMALE CRITICS to do the job of marketing team for them for free (and calling feedback they dislike "hate"). 
All the while shamelessly claiming that they did their market research beforehand and none of the "few females" they asked foresaw the backlash.
This company desperately needs to replace its PR and marketing departments, preferably with an all-female staff. 
~Ozzie