In MGSV if you ogle Quiet, she "poses" for you suggestively. In Death
Stranding if you stare at Sam's crotch, he punches you. The framing of
both of these are bad. One is framed as a reward, the other is framed as
"no homo!" despite the player's action in both being the same. I don't
care if you worship Kojima, we REALLY need to talk about the "male gaze"
perspective in his games, and stop giving him a pass because you love
his games.
On the one hand, I do appreciate that ogling a character who isn't comfortable with it comes with consequences. On the other hand, I doubt there are consequences for ogling any of the ladies. I also agree with the "no-homo" and violence criticism. Are guys not allowed to say "hey, could you stop staring at my crotch? It's making me uncomfortable"? Wincenworks, please confirm.
This really points out the big double standard in the last 2 games from Kojima, as well as most of the media we criticize on this blog: that men have agency and women are just objects meant for consumption, whether that's for fan-service, being a plot device, or being a lamp. The two lady characters I know from the reveals from Death Stranding are named Mother and Fragile, so that's…. not promising at all. 
-Icy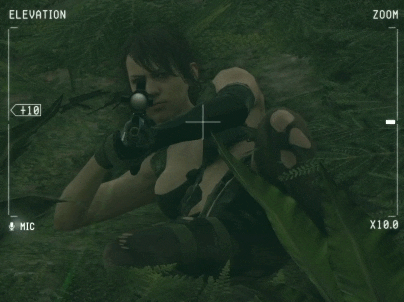 Punching people in the face for looking at their crotch is generally frowned upon in society, as it is usually customary for the other party to demand you be removed from premises or charged, even in places which still have "gay panic" defenses on the books. (What I'm saying is this normalizes the absurd justifications cishet men use for real violence against real men-loving-men)
I'd also like to point out that while Kojima apologists are quick to blame Konami for everything from Quiet to climate change, the last time Kojima had near total creative control was Policenauts (where he famously even controlled the music queues via scripting rather than directions).
Policenauts is a game where nearly every female character's breasts are an interactable item and the first appearance of Meryl from the Metal Gear Solid series, specifically so he could include a mini-game where she invites with her boobs if you score high enough at target practice.
Oh well, at least we'll always have this helicopter ride.
– wincenworks