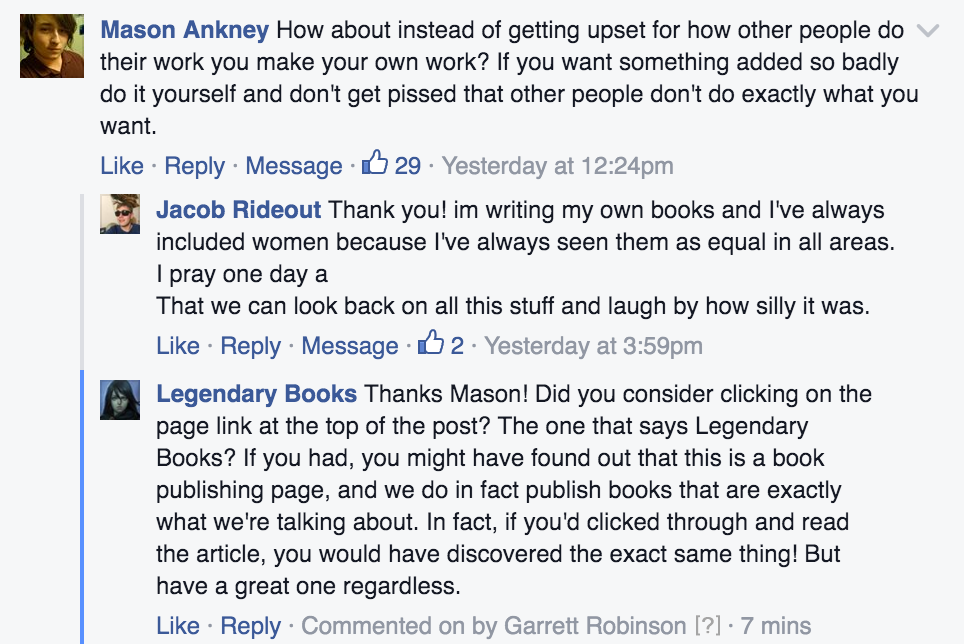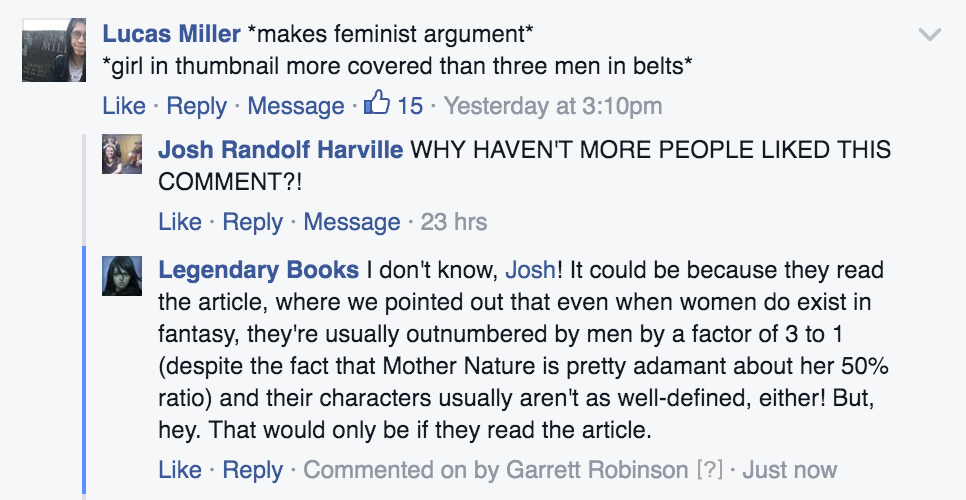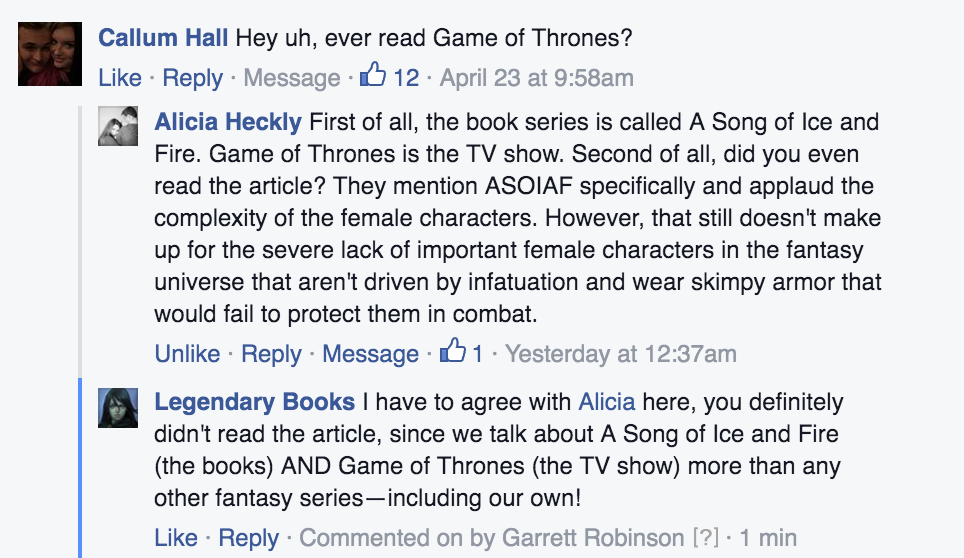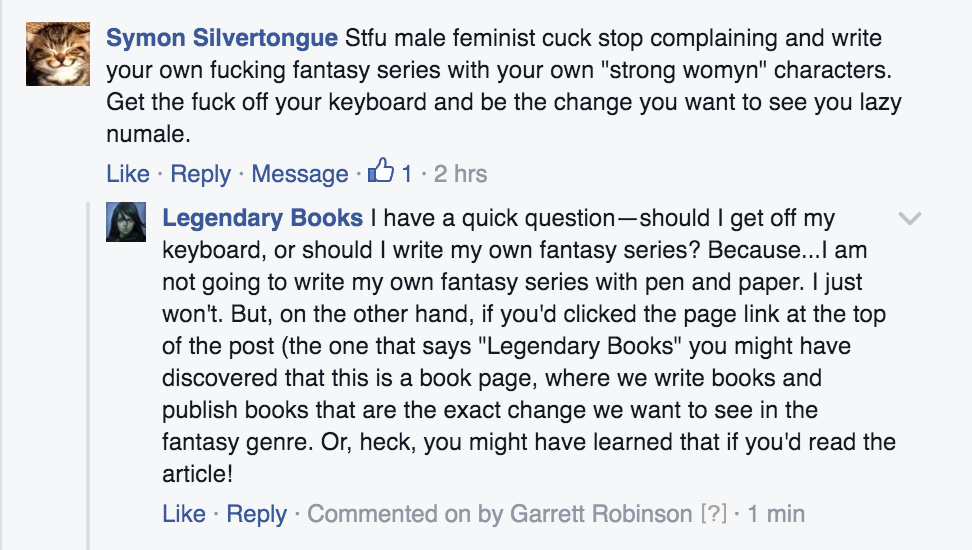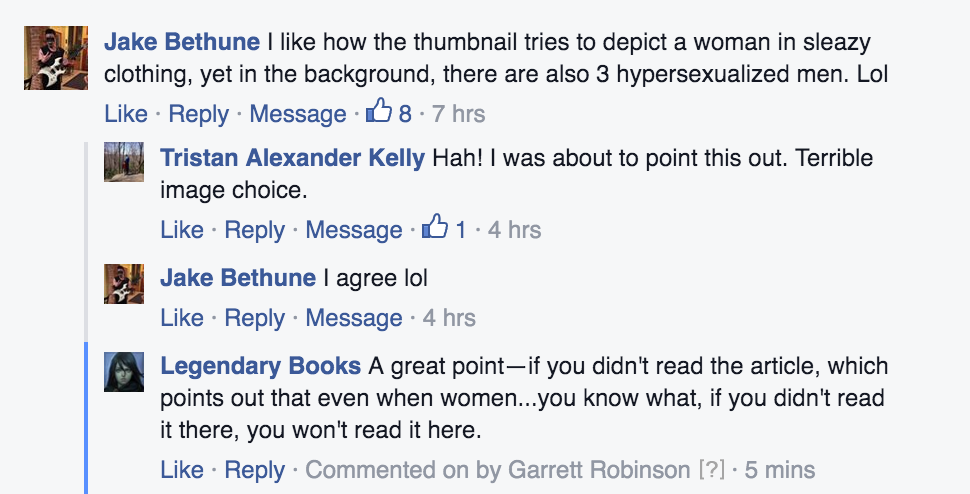 I got real petty over on the Facebook page and IT WAS GLORIOUS.

This is me, going to check out Legendary Books now…

Publisher: We think that the way the fantasy genre treats women is problematic so we're going to try and do better

A Fool: If you don't like it why don't you make your own!

Publisher: That

That is literally what we just said we are doing

@bikiniarmorbattledamage I think this is right up your alley. Ha!

Yes, it is! Thank you for sending us this 🙂

@garrettbrobinson's apt and continuous snark here beats even the famous concise answer Star Wars Facebook gave to the dudebros "concerned" about Captain Phasma's feminity.

Please everyone read the article and all of those comments, it's quality content. 

It's also massive evidence that certain kind of people (who believe in such logic as "instead of having an opinion about a product, go make one yourself!" or "shirtless men = hypersexulized") just plain do not care to acquaint themselves with an article/blog/video if it looks even vaguely feminist before replying to it.
We find it pretty amazing how they're typing preemptive, uninformed responses to something they didn't even read and, at the same time, expect its author to prove their own credentials.

~Ozzie
Time to bring back this awesome article, its amusingly ignorant backlash and A+
responses
to detractors from @garrettauthor​ (the OP), as the saga of snark continues… This time against some dude who "doesn't care" about sexuality of fantasy book characters. Who indeed cares so little that he needs to openly inform a publisher how they shouldn't advertise their books for having LGBTQ+ themes. 
[more context and excepts from that Facebook thread under this link]
Also, if you're interested in getting the first novel in Garret Robinson's Underrealm series as a free e-book, here's the link!
~Ozzie