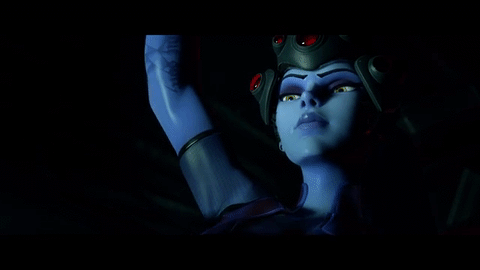 So, incredibly, Blizzard has managed to come up for yet another outfit for Widowmaker that makes less sense than her original outfit – and it works as a pretty iconic example of a costume as the sort of complete nonsense when you get cis men trying to design sexy lady fashion without taking the time to study actual fashion and clothing design.
Bayonetta is beloved by many women, because while her outfits are ridiculous they also scream "fashion" and thus convey a sort of narrative that she looks like that because she wants to has the power to. It's not unlike how Duke Nukem runs around in an ultra manly sleeveless top… except that well, it only got signed off on because it appealed to horny cishet men.
This outfit conveys that the artist likes naked (skinny, conventionally attractive) women and has tried to obfuscate it by adding random accessories and design quirks until it looks "unique" (in the same way a randomly generated hash code is unique).  How it fits into fashion or even just clothing is secondary to how many extra polygons it has.
Now I know what you're thinking, "Kim, you just want her to wear a suit." and that is not incorrect, but more importantly I want Blizzard to look at how real fashion designers make real woman look powerful.  More like, say, how Giorgio Armani dressed Gia Carangi:
Or Gina Torres was dressed in suits:
And how Gina Torres was dressed in Firefly:
And learn how to mix it up into functional, aesthetically pleasing designs that convey power and story and character.
And we could avoid… so many problems. 
– wincenworks