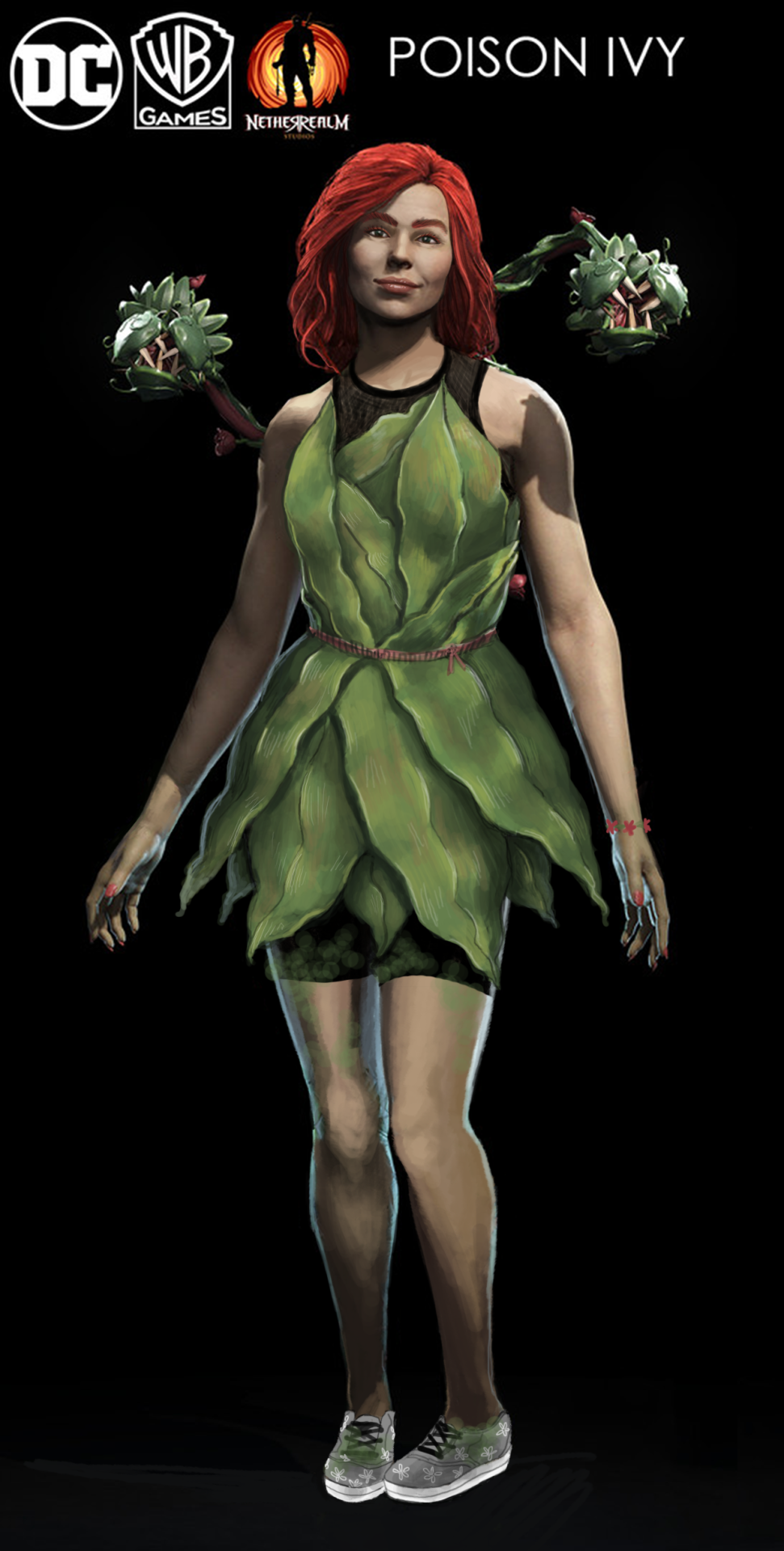 Poison Ivy's Design Team has Clearly Never Touched a Plant
We're going back in time a little with this one, as I was working on this at the same time that Ozzie was doing her Starfire redraw. With this one, I was mainly focusing on giving her an actually plausible costume for the Gritty and Realistic "aesthetic" (insert a few more quotes around that word) of Injustice 2. Wearing plants against bare skin sounds like a bad idea to me, so I instead decided to give her a sports bra and shorts, and a leaf dress on top. After all, Black Canary and Harley Quinn (and Catwoman, sorta) get to wear Real People clothes. Why does Ivy have to (ironically) get the rash?
I also wasn't really a fan of the almost militaristic "plants should rule the world" motivation she has the game, so I decided to just make her into an overenthusiastic plant lover. Although her vine…. things, have bigger teeth, she's got a bracelet and flowers on her sensible non-high-heel shoes, as well as moss on her legs so that the green is not restricted to only the top half of the design.
Her makeup was predictably hideous, so I reduced it and gave her a more defined face shape, though I should have given her deeper eye sockets. I decided to give her lip gloss instead of the cliche red lipstick, because I was thinking that if I was going to a fight, what kind of don't-have-to-worry-about makeup would I put on in 5 minutes? Mascara and gloss were the ones.
I think with more time, I probably could have worked the design to be more interesting, with vines and flowers everywhere. As it is now, it's a pretty simple design overall. I rendered the crap out of those frigging dress leaves though!
-Icy