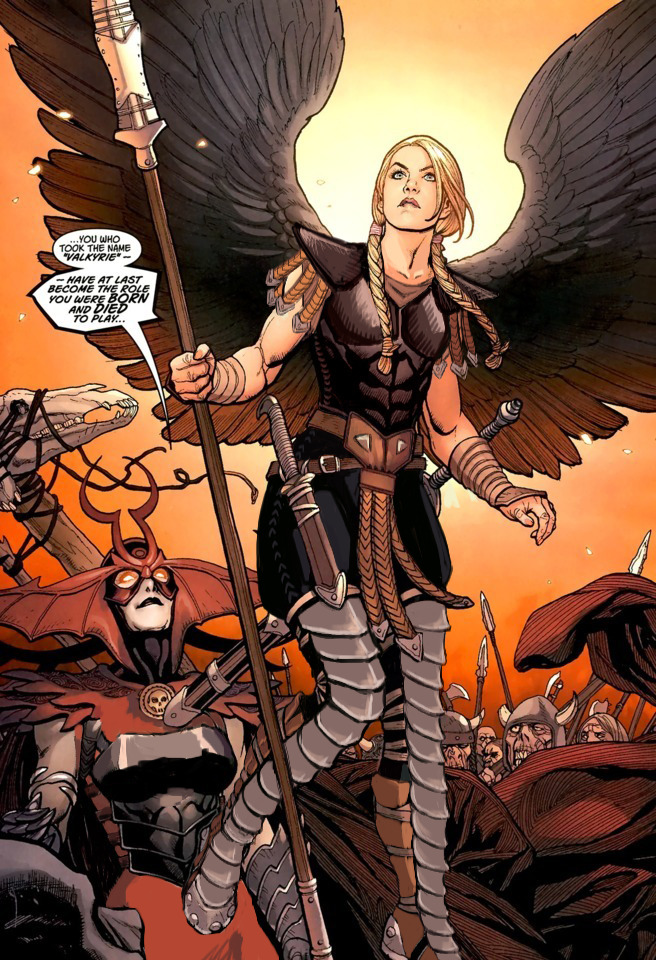 Gotta Fix Everyone's Weird Boob "Armor"
I was frustrated with how Marvel's Valkyrie was just a sequence of weird design decisions. This particular version ticked me off because they had the cool cuirass with the abs, but then the chafing and the metal boob cones…. ugh.
I started with fixing that chest armor: getting rid of the weird metal bra and adding cool (to me, anyway) shoulder guards. I wanted to give her a more powerful look. I added some small dangling leather straps to mirror those on her belt.
When it was time to fix her…. boots? I took the liberty of, at the same time, painting over poor Hel's painful-looking <biggest air-quotes ever> "armor." I actually started giving her a more reasonable breastplate but gave up. That would be a project all on its own.
Those leg ropes seemed very stupid to me, and they didn't go with the rest of the design, so I gave her plate armor that kept the small shapes. I then gave her simple pants to be the large shape in the design. In hindsight, I feel like I should have gone through with the metal gauntlets I wanted to give her but bailed on.
Finally, I replaced her Generic Pout™ with a more determined expression. Now both ladies can go forth and fight whoever it is they're fighting. 
-Icy